STAR WARTS
To find out more information from our show archives, please use the links below.
Poster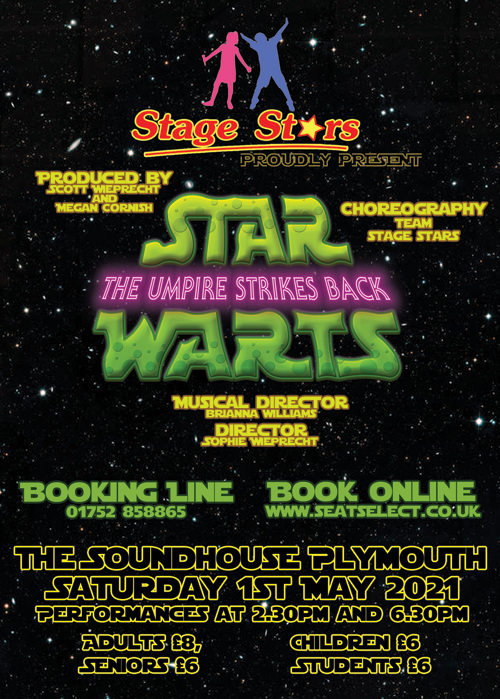 Synopsis
STAR WARTS - SYNOPSIS
Prologue
The musical opens with a very familiar orchestral overture as scrolling text and a deep voice provide a dramatic introduction to our story. A frantic space battle ensues as Princess Nebula's ship is pursued by Space Rangers, then we are instantly transported inside Nebula's cockpit. Nebula and her butler android, Qwerty, are desperate to escape the Space Rangers, but their only option is to crash land on a nearby Space Station - Junction Fifty-One. We see their chase resume as Nebula's ship flies on collision course for the space station and crash lands.
Scene 1
An instant change of scene takes us to the surface of Junction Fifty-One, where Daft Ada Elbow and her nephew, Luke Warmwater, prepare for the imminent arrival of customers. The Trekkies and chorus enter and all sing "Junction Fifty-One", during which we discover more about the delights of this space station and Luke sings of his desire for adventure. We briefly meet visiting characters such as the Diddly Squits and Jelly Nit Apprentices whilst the Trekkies peruse Daft Ada's star wares. Ada sadly reminisces of the day her baby son Dennis was accidentally swapped for a pot-plant called Gordon many years ago by the mysterious Doctor Woo. The Trekkies leave and we hear a loud explosion as Princess Nebula crashes into Luke's bedroom. Her robot Qwerty is in pieces, but Luke repairs him in a flash and introduces his own droid, R-U-1-2. On meeting Nebula, R-U plays a secret message from her parents who instruct her to get help from Toby Wonky Nosebleed to rescue them and their galaxy. Nebula explains how her galaxy has disappeared, the sphere round her neck being the only thing left from it. She tells of the evil Umpire on Planet Wimbledonia and his dark desire to conquer the Universe. Fortunately, Toby Wonky Nosebleed instantly appears and with the help of magical fingers describes the power of the Sauce and how it may be learned from the Jelly Nit Master, Lord Yoga. The new friends need a fast ship and cool captain, and Zak Solo crash lands right on cue with his first mate and saxophone player, Nigel The Nookie. Together they board the Millennium Penguin to launch their mission, and all enter to sing "Space Trip".
Scene 2
Meanwhile, the evil Umpire is in his High Tower on Planet Wimbledonia practising his sinister, heavy breathing. Along with his first officer Spocky McSpock and his computer assistants, Sira and Alexi, we discover how the Umpire was abandoned as a baby and raised by the Wombles of Wimbledonia. He has taught himself the dark side of the sauce and punishes anyone who breaks his strict rules by shrinking their galaxies into tiny spheres. But when he discovers one missing, he summons his storm trooping guards, the Racketeers, who enter equipped with their deadly ball blasters (very similar to tennis rackets). The three Space Rangers, Roger, Over and Out, arrive with news of Nebula's crash and the sphere she wore around her neck. The Umpire, certain that Nebula has survived, sends the Space Rangers back to capture her and the missing sphere.
Scene 3
A short scene shows Doctor Woo as he searches for Daft Ada so he may reunite her with baby Dennis, but is instead inundated by a plethora of patients with comical ailments.
Scene 4
Back on board the Millennium Penguin, the male members of the crew are busy playing video games. Nebula and Ada scold them and when the engines fail, it is down to Nebula to fix them. She reminisces about her parents and home and, accompanied by the chorus, sings "In A Galaxy Far, Far Away". The crew enjoy some in-flight entertainment watching the documentary 'Life In Space' by David Atomsplitter, during which Ada unintentionally matches the familiar narration with comical actions. Space Rangers Roger, Over and Out then stop the ship to question the crew in their search for Nebula and Qwerty. Toby uses the power of the Sauce to hypnotise the Rangers and send them off singing and dancing. The ship is then invaded by the Diddly Squits, an army of strange aliens who tell of their lost planet, Oxymoron. R-U replays an emergency message from Nebula and Ada who have been captured by the Rangers and taken to Wimbledonia. Luke must travel alone to visit Lord Yoga whilst the others must try to rescue the heroines and defeat the Umpire. The Diddly Squits offer to lend an alien hand and all sing "We Are The Diddly Squits".
Scene 5
Back on Planet Wimbledonia, Spocky McSpock is taking the Racketeers to task when the Umpire receives an update from Sira and Alexi. The Space Rangers have landed but have been followed by the Millennium Penguin. The Umpire orders the rebel ship to be captured in his tractor beam. The Space Rangers enter with great news - they have captured Princess Nebula and Daft Ada, which calls for a celebratory evil laugh.
Scene 6
We visit Planet Pilates in the Tai Chi system, where Lord Yoga's apprentices are scalded for failing their saucy SATS. His aides, Alfie Centuri and Anne Dromeda, announce the arrival of Luke Warmwater who has come to learn the ways of the Sauce. He brings Gordon the pot-plant, who suddenly flops lifelessly in Luke's arms. Yoga promises to use the power of the Sauce to bring Gordon back to life and does just that in the uplifting and energetic song "Squeeze The Sauce".
Scene 7
Deep in the Umpire's dungeon on Wimbledonia, Nebula, Ada and the Trekkies are imprisoned and forlorn. Nebula captures the hopeless mood as she sadly sings "Far, Far Away Reprise". Suddenly, Luke appears with a revived and much grown Gordon, and using his technical skills, is able to unlock the dungeon door. The released prisoners celebrate their freedom as all sing the rousing "Rebel March".
Scene 8
Lost in the underground tunnels of Wimbledonia, the Space Rangers hopelessly search for the escaped prisoners and the Umpire. As they continue their hunt, we see various characters and groups passing through in turn, searching for the exit. Finally the Umpire reveals to Spocky and his Racketeers that his deceptive 'Way Out sign' has actually lead his enemies toward his treacherous trap!
Scene 9
Back in the Umpire's control room, he has recaptured his foes and condemns their fruitless attempt to rebel as all sing "The Umpire Strikes Back". Nebula and Luke challenge the Umpire to a final battle of bottles, dark sauce against light sauce, and a stylised slow-motion tennis match ensues. The players use their Bling Blades for rackets, but just as the Umpire is about to win, Daft Ada steps onto court and brings the match to an abrupt end. She showers the Umpire in green sauce thus restoring his memory, and Ada reveals his true identity! A regretful Umpire restores Nebula's galaxy and she is reunited with her parents. Doctor Woo returns with baby Dennis, much to everyone's confusion, and is delighted to discover that Gordon's alive! The joyous company celebrate with a reprise of "Space Trip", then revisit each song in the excitingly energetic "Star Warts Megamix" to bring the musical to a spectacular close.
Music
STAR WARTS - MUSICAL NUMBERS
Act 1 
1. Junction 51
2. Space Trip
3. I'll Make The Pay
4. If We All Work Together
5. Galaxy Far Far Away
6. He Will Be A Hero
7. Squeeze The Source





 

 
 

Act 2

8. Far Far Away (reprise)
9. March Of The Rebels
10. The Umpire Strikes Back
11. Space Trip (reprise)
12. Mega Mix
Cast
STAR WARTS - CAST LIST
Daft Ada – Lexi Luscombe
Luke Warmwater – Ella Cornish
Princess Nebula – Daisy Williams
Doctor Woo – Bryn Roderick
Yoga – Amelia Middleton-Nunn
The Umpire – Scarlett Smith
Spocky/Basil (also covers lines of Saffron) – Missy Morgan
Qwerty – Chloe Byrne
Ranger Roger – Katie Roberts
Toby Wonky Nosebleed – Tilly Luxton
Zak Solo – Ella Drummond
Ranger Out – Elise Wilkins
Ranger Over – Kyla Corden
Alexi (also covers lines of Sira) – Isla Fisher
Anne (also covers lines of Alfie) – Rosa Cameron
Nigel The Nookie – Isla Cameron
Quasar (also covers lines of Jaffa, Luna & Buzz) – Jasmine Cole
Commodore Nintendo – Izzy Roberts
Romulan (also covers lines of Cosmic & Flash) – Anya Wilkins
Photon (also covers lines of Stella & Aurora) – Rubie Corden
Mack – Spencer Tucker
Roe – Ollie Luscombe
Amiga (also covers lines of Sega & Kong) – Emmie Slater
Atari (also covers lines of Snez & Pixel) – Olivia Collier
Borg (also covers lines of Venus) – Emmie Slater
Becker (also covers lines of Graf) – Olivia Collier
E.C. (also covers lines of Pong) – Bella Legg
Crew
STAR WARTS - CREW LIST
Producer - Scott Wieprecht
Assistant Producer - Megan Cornish
Musical Director - Brianna Williams
Director - Sophie Wieprecht
Choreographer - The Full Staffing Team

Lighting Designer - 
Sound Designer - 
Pictures
PICTURES
Stage Stars has now moved all pictures from previous show, events and trips to one main gallery for ease of use and to make the ever growing library of images more managable. The benefits of this are:
*All pictures can be viewed at the same time without having to go to each different show page
*Pictures can all be formatted in the same way and quality improved
*We can add new galleries such as rehearsals and your pictures easily
*You can upload your own pictures for us to include in the gallery
*We can help protect our members images and restrict downloading of pictures
To view our show pictures please use the menu above and select galleries. You can also purchase images from all our shows at our dedicated show shop www.mediabooth.co.uk.
Downloads
DOWNLOADS
With the hundreds of previous show downloads, including pictures, programmes, and music, along with all our newsletters, information and general downloads, we have made the decision on our new site to move all our downloads in to one place. To access our downloads section, along with a number of other extra features, you need to be a member of Stage Stars. Then, just click on the 'Back Stage' menu option above to login, and view a special area of our website, especially for you.
Press
PRESS RELEASES
All our press releases and articles about us that have appeared in the paper are now all in one place. To access them, use the "About Us" menu above, and click on Press Centre.