WE WILL ROCK YOU
To find out more information from our show archives, please use the links below.
Poster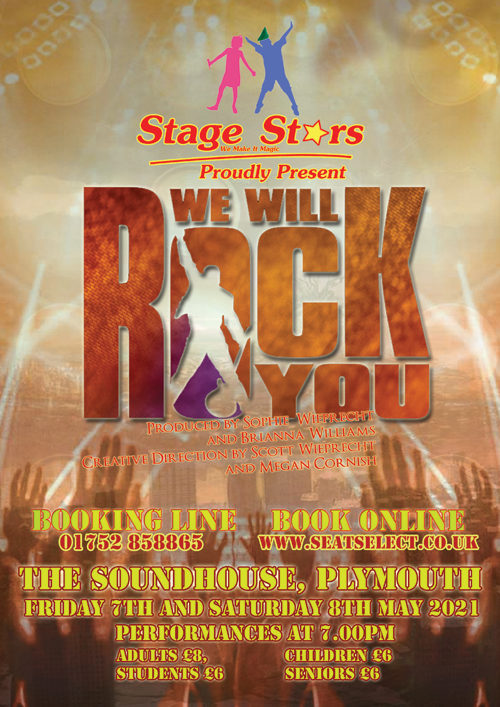 Synopsis
WE WILL ROCK YOU - SYNOPSIS
Featuring more than 20 hit Queen songs, WE WILL ROCK YOU School Edition follows two revolutionaries as they try to save Rock in a post apocalyptic world. Featuring the songs "Another One Bites the Dust," "Bohemian Rhapsody," "Killer Queen," "We Will Rock You," "Somebody To Love," "We Are The Champions," "Don't Stop Me Now" and many more.
After a victorious 12 year reign and having rocked over 7,376,485 people in a record-breaking 12 years at the London Dominion Theatre, We Will Rock You played its final London performance on May 31 2014. With 4,659 performances played, We Will Rock You achieved the distinction of becoming the longest running show ever at London's Dominion by a margin of nine years and  took its rightful place in London West End history, sitting proudly in the Top 10 longest running musicals of all time. By this time We Will Rock You had been performed in 28 countries around the globe and seen by more than 16 million people.
Music
WE WILL ROCK YOU - MUSICAL NUMBERS
Act 1

Innuendo
Radio Ga Ga
I Want To Break Free
Somebody To Love
Killer Queen
Play The Game
Under Pressure
A Kind Of Magic
I Want It All
Headlong
No-One But You (Only The Good Die Young)
One Vision

 

 
 

Act 2

Who Wants To Live Forever
Flash
Seven Seas Of Rhye
Don't Stop Me Now
Another One Bites The Dust
Hammer To Fall
These Are The Days Of Our Lives
We Will Rock You
We Are The Champions
Bohemian Rhapsody
Cast
WE WILL ROCK YOU - CAST LIST
Galileo – Lewis Isaacs
Scaramouche – Jasmine May
Killer Queen – Ro Ruth
Commander Khashoggi – Shannon Pearce
Meat – Tilly Luxton
Britney – Bryony Freeman
Pop – Daisy Williams
Big Macca – Isabella Farmer
Charlotte Church – Missy Morgan
Puff – Tamzin Hawcroft
Bob – Amelia Middleton-Nunn
Freddie – Lexi Luscombe
Cliff Richard - Ella Drummond
Teacher – Rosa Cameron
Madonna – Isla Cameron
Jackson Five – Chloe Bryne
Justin – Ella Cornish
Aretha – Bryn Roderick
Alana – Scarlett Smith
Eddie – Kyla Corden
Mariah – Rosa Cameron
Bastille – Rubie Corden
First Cop – Isla Cameron
Second Cop – Rubie Corden
Doctor One – Ella Cornish
Teen Queen 1 – Missy Morgan
Teen Queen 2 – Lexi Luscombe
Teen Queen 3 – Scarlett Smith
Teen Queen 4 – Ella Drummond
Teen Queen 5 – Amelia Middleton-Nunn
Crew
WE WILL ROCK YOU - CREW LIST
Producer - Sophie Wieprecht
Assistant Producer - Brianna Williams
Creative Director - Scott Wieprecht
Assistant Creative Director - Megan Cornish
Pictures
PICTURES
Stage Stars has now moved all pictures from previous show, events and trips to one main gallery for ease of use and to make the ever growing library of images more managable. The benefits of this are:
*All pictures can be viewed at the same time without having to go to each different show page
*Pictures can all be formatted in the same way and quality improved
*We can add new galleries such as rehearsals and your pictures easily
*You can upload your own pictures for us to include in the gallery
*We can help protect our members images and restrict downloading of pictures
To view our show pictures please use the menu above and select galleries. You can also purchase images from all our shows at our dedicated show shop www.mediabooth.co.uk.
Downloads
DOWNLOADS
With the hundreds of previous show downloads, including pictures, programmes, and music, along with all our newsletters, information and general downloads, we have made the decision on our new site to move all our downloads in to one place. To access our downloads section, along with a number of other extra features, you need to be a member of Stage Stars. Then, just click on the 'Back Stage' menu option above to login, and view a special area of our website, especially for you.
Press
PRESS RELEASES
All our press releases and articles about us that have appeared in the paper are now all in one place. To access them, use the "About Us" menu above, and click on Press Centre.