THE 45TH MARVELLOUS CHATTERLEY VILLAGE FETE
To find out more information from our show archives, please use the links below.
Poster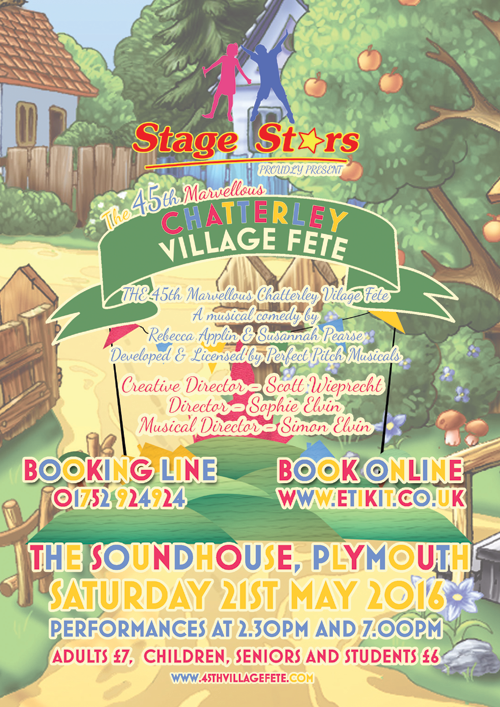 Synopsis
THE 45TH MARVELLOUS CHATTERLEY VILLAGE FETE - SYNOPSIS
Chloe Potts, a girl who dreams of being a writer but who has so far only written for her personal blog, may have hit upon a solution. But convincing the village is not going to be easy, especially as old tensions begin to resurface and everyone is just a little bit too lovelorn to focus.
The arrival of the gorgeous Oscar, a smooth-spoken charmer from town, really throws the cat among the pigeons as he offers Chloe the chance to escape just when the village need her most.
Can she find a way to leave without devastating her granddad and all those who have supported her for so many years? And will the inhabitants of Chatterley come up with a plan to defeat the supermarket and save their village before the bulldozers arrive?
Music
THE 45TH MARVELLOUS CHATTERLEY VILLAGE FETE - MUSICAL NUMBERS
Act 1 
1. Country Life
2. Country Life (reprise)
3. They're Only Dreams
4. Steam
5. OK 
6. White Elephant Stall
7. Three Little Words
8. Photo Finish

 
 

Act 2
9. It Takes A Village
10. The 45th Marvellous Chatterley Village Fete
11. They'e Only Dreams
12. White Elephant Stall (Reprise) 
13. The Light Of Love
14. What Will I Do
15. Made In A Decade
16. Finale 
Cast
THE 45TH MARVELLOUS CHATTERLEY VILLAGE FETE - CAST LIST
Chloe – TBC
Crew
THE 45TH MARVELLOUS CHATTERLEY VILLAGE FETE - CREW LIST
Producer - Scott Wieprecht
Director - Sophie Wieprecht
Musical Director - Simon Elvin
Stage Manager - Dawn Pearce
Technical Director - Derek Pearce
Pictures
PICTURES
Stage Stars has now moved all pictures from previous show, events and trips to one main gallery for ease of use and to make the ever growing library of images more managable. The benefits of this are:
*All pictures can be viewed at the same time without having to go to each different show page
*Pictures can all be formatted in the same way and quality improved
*We can add new galleries such as rehearsals and your pictures easily
*You can upload your own pictures for us to include in the gallery
*We can help protect our members images and restrict downloading of pictures
To view our show pictures please use the menu above and select galleries. You can also purchase images from all our shows at our dedicated show shop www.mediabooth.co.uk.
Downloads
DOWNLOADS
With the hundreds of previous show downloads, including pictures, programmes, and music, along with all our newsletters, information and general downloads, we have made the decision on our new site to move all our downloads in to one place. To access our downloads section, along with a number of other extra features, you need to be a member of Stage Stars. Then, just click on the 'Back Stage' menu option above to login, and view a special area of our website, especially for you.
Press
PRESS RELEASES
All our press releases and articles about us that have appeared in the paper are now all in one place. To access them, use the "About Us" menu above, and click on Press Centre.