CINDERELLA
To find out more information from our show archives, please use the links below.
Poster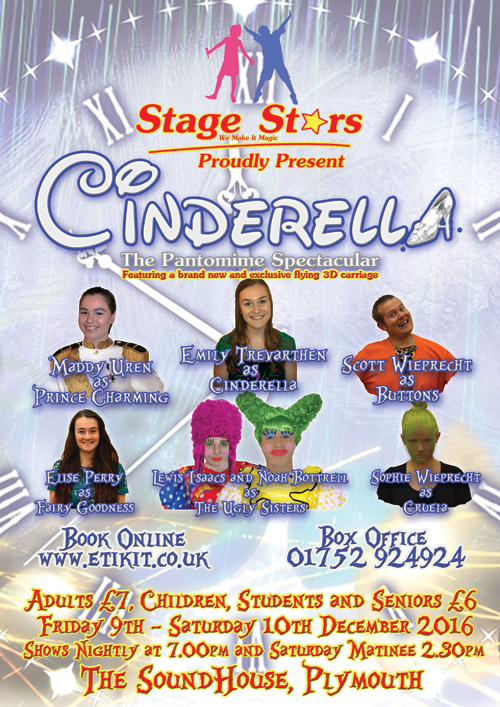 Synopsis
CINDERELLA - SYNOPSIS
The story of Cinderella is one of the oldest and well told around. Well this year why not take a look at this classic from the view of Stage Stars. All is happy in the village of Merrydale until Cinderella learns of her fathers death and is left in the care of her evil stepmother Cruela and her two daughters Victoria and Daniela. Her only friend is the servant who goes by the name of Buttons and he secretly loves her.
After a visit the the forest the Prince announces he will be holding a grand ball with the fairest maidens in the land all attending. Cinderella is, of course, told she cannot attend the ball but with a little help from Buttons and her Fairy Godmother she is whisked off to the palace in a golden carriage.
Cinderella is the highlight of the ball for the prince and he instantly falls for her however the Fairy's magic runs out at 12 and so Cinderella has to leave the ball promptly leaving behind just one of her shows. The Prince instantly declares whomever in the kingdom the shoe fits will be his bride.
As the Prince and Dandini begin the hunt for the mystery women the Ugly Sister try a spot of cleaning resulting in a bigger mess then when they started (the Stage Stars slapstick scenes are excruciatingly funny). The Prince finally arrives at the last house and after the two ugly sisters fail to fit the shoe he is told no-one else lives there. With the help of the audience Cinderella is however found and her and the Prince are re-united to live happily ever after...
Music
Act 1 
SONG ONE                  A Cinderella Story                    
SONG TWO                 Came Here For Love                          
SONG THREE               It Roars                                             
SONG FOUR                When Will My Life Begin                            
SONG FIVE                   Who Id Be                      
SONG SIX                    Revolting Children                   
SONG SEVEN                Rewrite The Stars                      
SONG EIGHT                Smell Of Rebellion                    
SONG NINE                  If Only You Would Listen
SONG TEN                    Healing Incantation
SONG ELEVEN              One Night Only

 
 

Act 2
SONG ONE                   Something About This Night
SONG TWO                  Baby Shark                
SONG THREE                When She Loved Me
SONG FOUR                 Raining Me
SONG FIVE                   Black Magic 
SONG SIX                     Mother Knows Best
SONG SEVEN                Magic Everywhere
Cast
CINDERELLA - CAST LIST
Cinderella – Megan Cornish
Cruela – Brianna Williams
Victoria – Lewis Isaacs
Daniela – Amber Wheeler
Buttons – Scott Wieprecht
Prince Charming – Beth Blake
Dandini – Katie Byrne
Fairy Godmother – Jasmine May
Dilly - Daisy Williams
Dolly – Shannon Pearse
Dally – Ailish Field
Deli – Bryony Freeman
Dippy – Polly Clayton
Dopey – Tilly Luxton
Oglaf – Megan Welch
Fisherman – Shannon Pearse
Sprite 1 – Amelia Middleton-Nunn
Sprite 2 – Ella Cornish
Sprite 3 – Chloe Byrne
Sprite 4 –
Daisy – Connie Crawshaw
Harriett - Daisy Stephens
Announcer – Ayla Milling
Ghost –
Werewolf –
Crew
CINDERELLA - CREW LIST
Producer - Scott Wieprecht
Director - Sophie Wieprecht
Musical Director - Brianna Williams
Stage Manager - Dawn Pearce
Technical Director - Derek Pearce
Pictures
PICTURES
Stage Stars has now moved all pictures from previous show, events and trips to one main gallery for ease of use and to make the ever growing library of images more managable. The benefits of this are:
*All pictures can be viewed at the same time without having to go to each different show page
*Pictures can all be formatted in the same way and quality improved
*We can add new galleries such as rehearsals and your pictures easily
*You can upload your own pictures for us to include in the gallery
*We can help protect our members images and restrict downloading of pictures
To view our show pictures please use the menu above and select galleries. You can also purchase images from all our shows at our dedicated show shop www.mediabooth.co.uk.
Downloads
DOWNLOADS
With the hundreds of previous show downloads, including pictures, programmes, and music, along with all our newsletters, information and general downloads, we have made the decision on our new site to move all our downloads in to one place. To access our downloads section, along with a number of other extra features, you need to be a member of Stage Stars. Then, just click on the 'Back Stage' menu option above to login, and view a special area of our website, especially for you.
Press
PRESS RELEASES
All our press releases and articles about us that have appeared in the paper are now all in one place. To access them, use the "About Us" menu above, and click on Press Centre.