NEVERLAND
To find out more information from our show archives, please use the links below.
Poster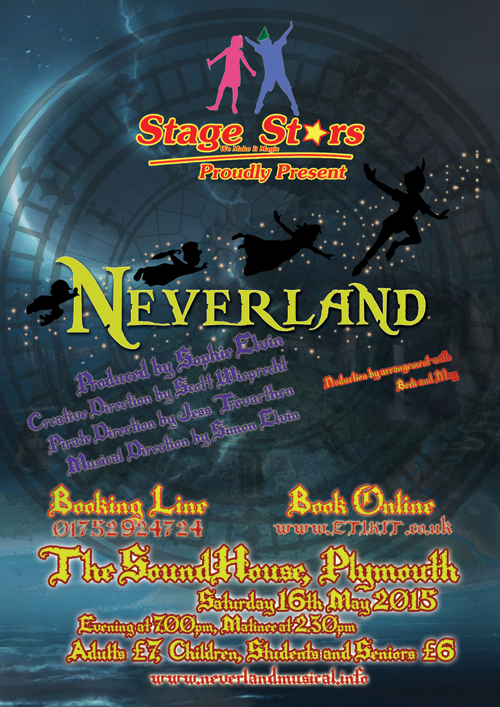 Synopsis
NEVERLAND - SYNOPSIS
Literature soars to new life in this retelling of the classic tale of Peter Pan. Join Wendy and her brothers as they learn important life lessons, and enjoy as Peter Pan and his clan of lost boys fight off Captain Hook and his crew of silly pirates. This show's beautiful music, charming lyrics, and dancing pirates will leave you wanting to come again and again to experience its magic!
Music
NEVERLAND - MUSICAL NUMBERS
Act 1 
1. RED HANDED JILL
2. GROW UP, CHILDREN
3. THE GIRL INSIDE
4. NEVERLAND
5. THE VOW OF PIRACY
6. THE VOW OF PIRACY" (REPRISE)
7. LOST BOYS ON THE LOOK OUT
8. THE LOST BOYS CREED
9. I MISS
10. I'LL BE WAITING

 
 

Act 2
11. RIGHT HAND TO YOUR HOOK
12. IF YOU GO
13. I DO BELIEVE IN FAIRIES
14. THE VOW OF PIRACY
15. ONE LAST LULLABY
16. WENDY'S DILEMMA
17. PETER PAN VS. HOOK
18. TAKE ME HOME
19. THE GIRL INSIDE" (REPRISE)
Cast
NEVERLAND - CAST LIST
Peter Pan – Lewis Isaacs
Tinker Bell – Lexie Luscombe
Wendy – Jasmine
John – Bryony
Michael – Missy Morgan
Mr. Darling - Tilly L
Mrs. Darling – Amelia W
Captain Hook – Ailish F
Smee – Shannon P
Tiger Lily – Lola B
Voiceover – Isabella F
Tootles – Daisy W
Slightly – Ella D
Curly – Amelia MN
Nibs – Leila Y
Pickle – Chloe B
Punch – Ella C
Totus – Miya
Woody - Scarlett
Noodler – Polly C
Jukes – Daisy S
Pirate #1 – Connie C
Pirate #2 – Ayla M
Leviclus - Bryn
Turci – Katie R
Gyros – Lizzie Young
Crew
NEVERLAND - CREW LIST
Producer - Sophie Wieprecht
Creative Director - Scott Wieprecht
Musical Director - Brianna Williams
Assistant Director - Amber Wheeler

Sound Designer - Scott Wieprecht
Lighting Designer - Megan Cornish
Pictures
PICTURES
Stage Stars has now moved all pictures from previous show, events and trips to one main gallery for ease of use and to make the ever growing library of images more managable. The benefits of this are:
*All pictures can be viewed at the same time without having to go to each different show page
*Pictures can all be formatted in the same way and quality improved
*We can add new galleries such as rehearsals and your pictures easily
*You can upload your own pictures for us to include in the gallery
*We can help protect our members images and restrict downloading of pictures
To view our show pictures please use the menu above and select galleries. You can also purchase images from all our shows at our dedicated show shop www.mediabooth.co.uk.
Downloads
DOWNLOADS
With the hundreds of previous show downloads, including pictures, programmes, and music, along with all our newsletters, information and general downloads, we have made the decision on our new site to move all our downloads in to one place. To access our downloads section, along with a number of other extra features, you need to be a member of Stage Stars. Then, just click on the 'Back Stage' menu option above to login, and view a special area of our website, especially for you.
Press
PRESS RELEASES
All our press releases and articles about us that have appeared in the paper are now all in one place. To access them, use the "About Us" menu above, and click on Press Centre.